Overview of Training Hospitals
About NewYork-Presbyterian Hospital
NewYork-Presbyterian Hospital is one of the largest, most comprehensive hospitals in the nation, with more than 2,600 beds across six campuses, and one of the foremost academic medical centers in the world. With its two Ivy League medical school affiliates, Columbia University College of Physicians and Surgeons and Weill Cornell Medicine, the Hospital is committed to pursuing clinical excellence, engaging in groundbreaking biomedical research, offering outstanding medical education, and providing prevention and wellness services to the community. NewYork-Presbyterian offers expertise in every area of medicine. Among its highly regarded specialty centers and services are a National Cancer Institute-designated Comprehensive Cancer Center, two premier sites for pediatric care, the oldest and largest organ transplantation program in the country, and centers of excellence in many other areas. Recognized nationally for quality and excellence, NewYork-Presbyterian is ranked as the #4 hospital in the nation and #1 in New York  by U.S. News & World Report. New York's top-ranked hospital for 20 years, with more "Top Doctors" than any other hospital in the country, NewYork-Presbyterian is a destination for advanced, innovative medical and surgical care.
Weill Cornell Medicine
Founded in 1898, and affiliated with what is now NewYorkPresbyterian Hospital since 1927, Weill Cornell Medical College is among the top-ranked clinical and medical research centers in the country. In addition to offering degrees in medicine, Weill Cornell also has PhD programs in biomedical research and education at the Weill Cornell Graduate School of Medical Sciences, and with neighboring Sloan-Kettering Institute and The Rockefeller University, has established a joint MD PhD program for students to intensify their pursuit of Weill Cornell's triple mission of education, research, and patient care. The Department of Surgery of Weill Cornell Medical College and New York-Presbyterian Hospital-Weill Cornell Medicine is internationally recognized for outstanding and innovative surgical expertise. There are seven divisions: Critical Care and Trauma, General Surgery, Oral and Maxillofacial Surgery and Dentistry, Pediatric Surgery, Plastic and Reconstructive Surgery, Transplantation Surgery and Vascular Surgery. There are also seven sections within General Surgery: Breast Surgery, Burn Surgery, Colon and Rectal Surgery, Endocrine Surgery, Gastrointestinal Metabolic Surgery, Laparoscopy and Bariatric Surgery and Surgical Oncology. We provide our patients with the highest quality, most compassionate care, utilizing state-of-the-art, minimally invasive technologies and techniques to achieve the most successful surgical outcomes.
https://www.nyp.org/locations/newyork-presbyterian-weill-cornell-medical...
Columbia University Medical Center
The Columbia University Medical Center is a clinical, research, and educational enterprise located on a campus in northern Manhattan. We are home to four professional colleges and schools that provide global leadership in scientific research, health and medical education, and patient care, including: - Vagelos College of Physicians and Surgeons - College of Dental Medicine - School of Nursing - Mailman School of Public Health The Vagelos Education Center is a new, state-of-the-art medical and graduate education building at Columbia University Irving Medical Center. The building, designed by Diller Scofidio + Renfro, in collaboration with Gensler as executive architect, is a 100,000-square-foot, 14-story glass tower that incorporates technologically advanced classrooms, collaboration spaces, and a modern simulation center to reflect how medicine is taught, learned, and practiced in the 21st century. The design seeks to reshape the look and feel of the Medical Center, and to create spaces that facilitate the development of skills essential for modern medical practice. CUMC is especially proud of its relationship with the surrounding Washington Heights community, many of whose members have roots in the Dominican Republic and other Spanish-speaking countries. CUMC serves a local, largely uninsured population in addition to patients traveling to the hospital from the greater tri-state area. The opportunity to work with a wide spectrum of patients and patient problems is one of the great strengths of the residency program.
https://www.nyp.org/locations/newyork-presbyterian-columbia-university-m...
Morgan Stanley Children's Hospital
NewYork-Presbyterian Morgan Stanley Children's Hospital can trace its roots to Babies Hospital, which was founded in 1887 as the first dedicated hospital for children in New York City. Located in a brownstone on Lexington Avenue and 55th Street, the facility received its name because care was focused on the first three years of life, when mortality in children at that time was at its highest.
Today, NewYork-Presbyterian Morgan Stanley Children's Hospital is affiliated with the Department of Pediatrics at Columbia University Vagelos College of Physicians and Surgeons. It is Manhattan's only hospital dedicated solely to the care of children and one of the largest providers of children's health services in the tri-state area, with a long-standing commitment to its community. It is also a major international referral center, meeting the special needs of children from infancy through adolescence worldwide.
https://www.nyp.org/morganstanley
Memorial Sloan Kettering Cancer Center
Memorial Sloan Kettering Cancer Center — the world's oldest and largest private cancer center — has devoted more than 135 years to exceptional patient care, innovative research, and outstanding educational programs. Today, we are one of 51 National Cancer Institute–designated Comprehensive Cancer Centers, with state-of-the-art science flourishing side by side with clinical studies and treatment.
The close collaboration between our physicians and scientists is one of our unique strengths, enabling us to provide patients with the best care available as we work to discover more-effective strategies to prevent, control, and ultimately cure cancer in the future. Our education programs train future physicians and scientists, and the knowledge and experience they gain at Memorial Sloan Kettering has an impact on cancer treatment and biomedical research around the world.
NYC Health + Hospitals/Harlem
NYC Health + Hospitals/Harlem provides a wide range of medical, surgical, diagnostic, therapeutic, and family support services to the residents of Central Harlem, West Harlem, Washington Heights, and Inwood. The hospital is a 272-bed acute care facility and a designated Level 1 Trauma Center.
https://www.nychealthandhospitals.org/harlem/
The Hospital for Special Surgery
HSS is the world's leading academic medical center focused on musculoskeletal health. At its core is Hospital for Special Surgery, ranked No. 1 for orthopedics for 11 years in a row by U.S.News & World Report (2020-2021). HSS has also been among the top-ranked hospitals for both orthopedics and rheumatology for 29 consecutive years.
Resident Rotations: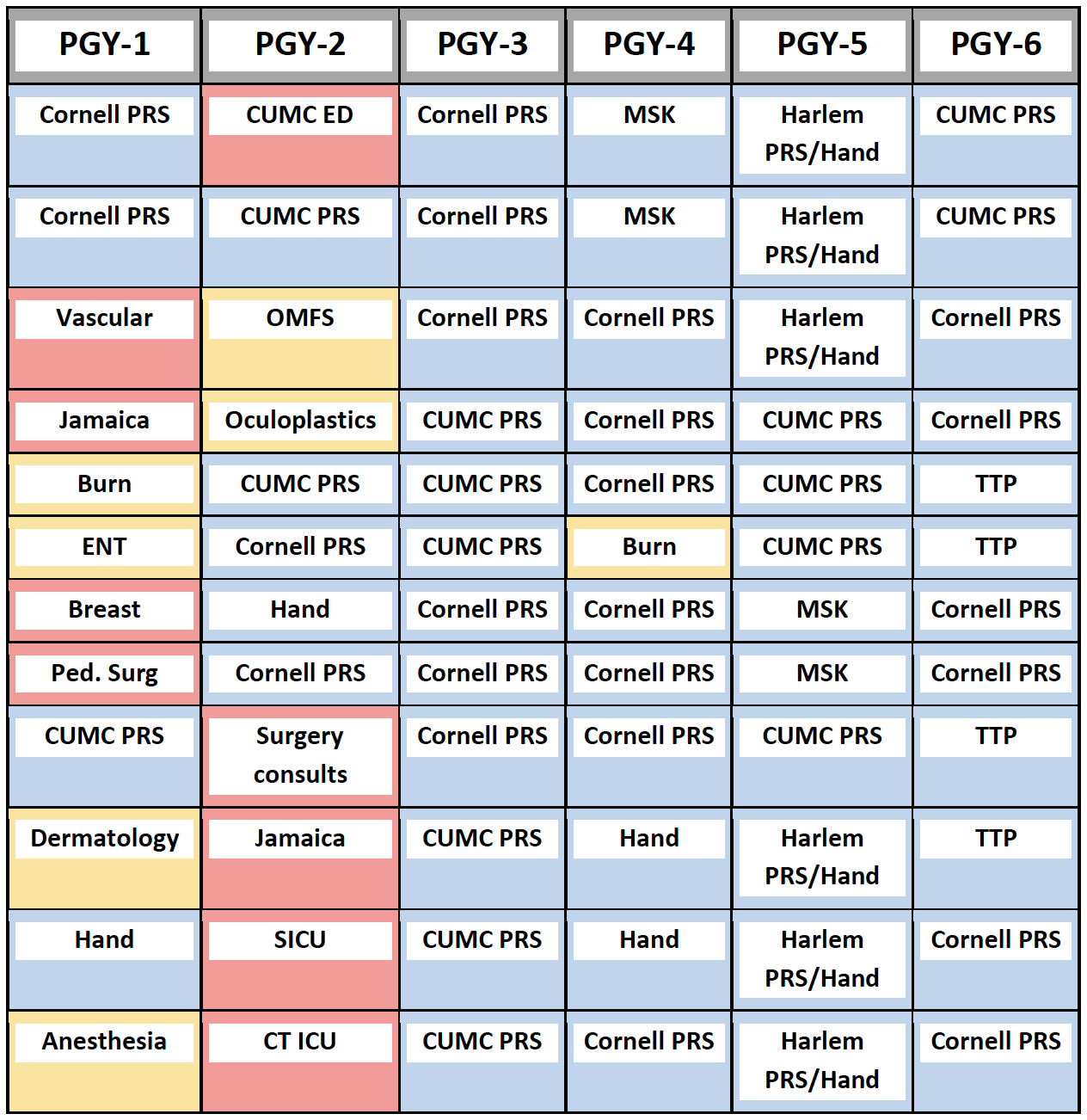 Key: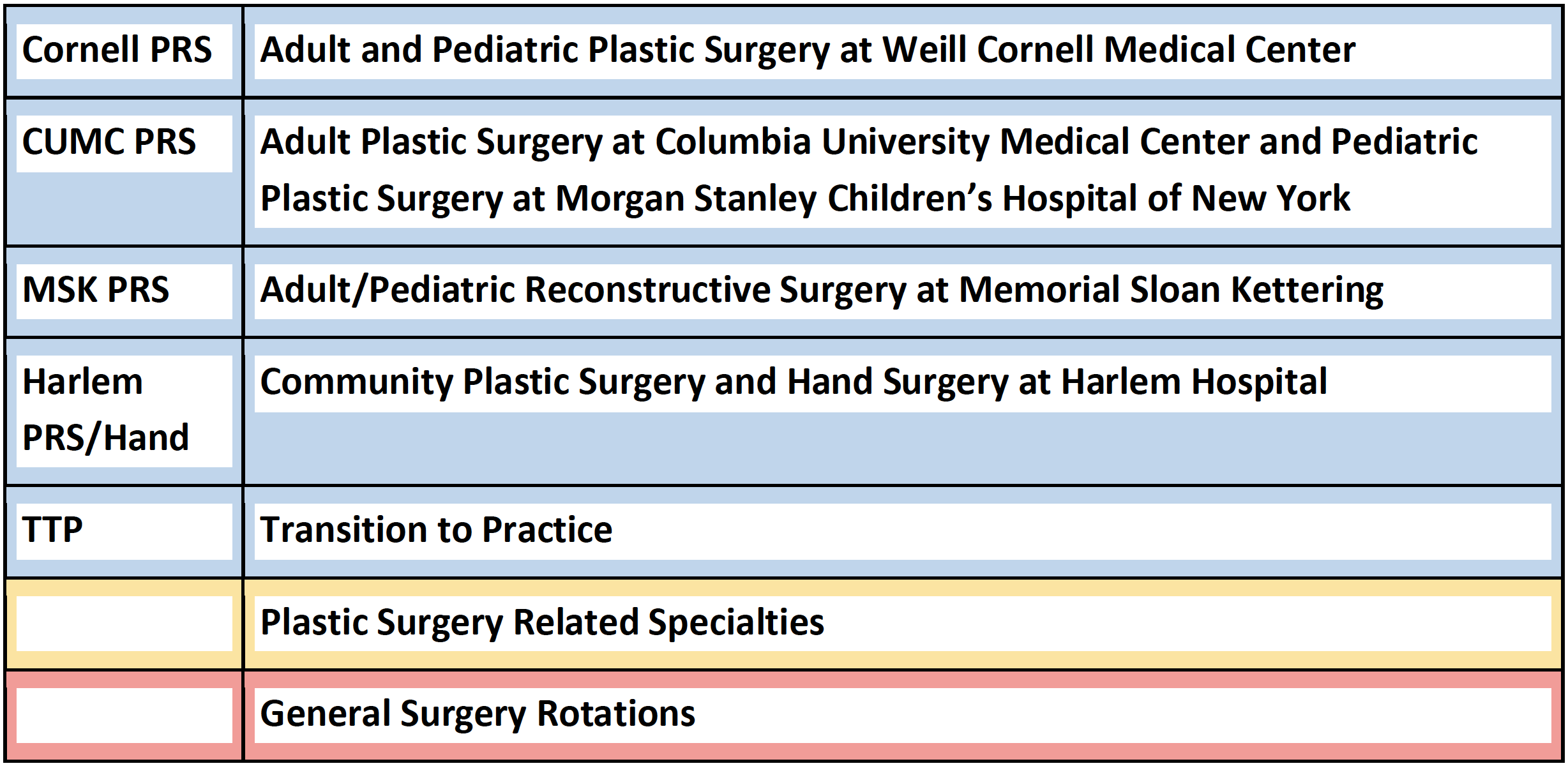 PGY-1/PGY-2
During the first two years, residents rotate through a variety of surgical services at both the NYP-Cornell and the NYP-Columbia campus. Residents complete their general surgery requirements on rotations such as vascular surgery, pediatric surgery, surgical ICU, and a dedicated Trauma surgery rotation at Jamaica Hospital in Queens. Residents also complete 7 months of dedicated plastic surgery rotations during this time, as well as rotations in plastic surgery related specialties such as ENT, Oral Surgery, Oculoplastics, and Burn Surgery.
PGY-3
During the 3rd year, residents begin plastic surgery full time, rotating between the NYP Cornell and Columbia Campuses, including time at our pediatric hospital on the Columbia Campus.
PGY-4
During the 4th year, residents continue their plastic surgery training on the main campuses, but also expand training to include rotations at Memorial Sloan Kettering Cancer Center (MSKCC), the #1 cancer center in the Nation. Here training focuses on pediatric and adult reconstruction of oncologic defects, with additional training in microsurgery. Fourth year residents will also complete 2 months of dedicated orthopaedic hand surgery, spend 1 week completing a microsurgery training course, and 1 month on Burn Surgery in our dedicated Burn Unit on the Cornell Campus.
PGY-5
Fifth year residents continue their plastic surgery training and spend time as the Chief Resident on the Columbia Campus, which includes Morgan Stanley Children's Hospital, covering a large variety of complex Craniofacial cases. Fifth year residents also rotate at Harlem Hospital, which is a community hospital experience covering both general plastic surgery and hand surgery. They spend additional time at MSKCC.
PGY-6
Sixth year residents are the Chief on the Cornell and Columbia Campus. They also spend 4 months on an elective rotation called Transition to Practice (TTP), where they have elective time to operate in private practices/aesthetic surgery.
Craniofacial Clinic
Residents have the opportunity to see patients in our multidisciplinary Craniofacial Clinic, caring for a wide variety of craniofacial conditions. This clinic offers comprehensive, family-centered care from time of initial diagnosis, throughout surgery and long-term. Beyond plastic surgery, the involved specialties include pediatrics, pediatric ENT, speech therapy, oral surgery, pediatric dentistry, genetics, and orthodontics.
Vascular Anomalies Clinic
Residents also play active roles in seeing patients with the NewYork-Presbyterian/Morgan Stanley Children's Hospital's multidisciplinary Vascular Anomalies Group, which provides expertise in the treatment of vascular anomalies in infants, children, and adolescents. The Vascular Anomalies Group brings together specialists from plastic surgery as well as cardiology, dermatology, hematology, orthopedic surgery, and radiology.
Injectables Clinic
Each quarter, a resident injectables clinic is held where residents have the opportunity to learn the various techniques for neurotoxins and dermal fillers on their own patients.
Conferences and Core Curriculum
The combined Cornell/Columbia Plastic Surgery Residency holds weekly academic conferences targeted at resident learning. These lectures cover all areas of Plastic Surgery and are given by experts in the field. This conference time is also used to prepare residents for the yearly in-service exam and written/oral board examination after graduation by covering the core principles outlined by the American Council of Academic Plastic Surgery. Monthly journal clubs are also held where the focus is on recent papers published in the field of Plastic Surgery. These are interspersed with journal clubs specifically focusing on Hand or Aesthetic surgery and led by different guest lecturers in their respective fields.
Anatomy Lab 
Each quarter, an anatomy lab is held with a structured curriculum guided by chief residents and attendings. Each anatomy lab focuses on a different anatomic region including upper extremity, torso, lower extremity, and head and neck.