The dental service receives approximately 16,000 outpatient clinic visits per year between our Adult Dental, Pediatric Dental and Oral Surgery clinics. All care is rendered in The Dental Center facility, which includes 9 fully equipped operatories, 2 trios scanners, a CBCT, a panorex x-ray and a dental laboratory. The Pediatric Dental Clinic, includes 3 fully equipped operatories and a panorex x-ray machine.  
The dental educational program at Weill Cornell Medicine provides education and experience in all of the sub-specialties including: 
Oral Diagnosis
Anesthesiology/Pain Control
Endodontics
Oral and Maxillofacial Surgery
Implantology
Oral Medicine and Pathology
Prosthodontics (Fixed and Removable)
Periodontics
As a result, the general practice resident develops experience in treating all phases and specialties of dentistry.
Residents have the opportunity to gain experience in advanced crown and bridge work, removable prosthetics, implant prosthetics, routine and complex endodontic procedures and periodontal procedures. They also gain experience in oral surgery and oral medicine and pathology in both the inpatient and outpatient settings.
At the end of the program the resident will develop sound clinical judgement and diagnostic skills that allows them to practice comprehensive general dentistry. Additionally, they will be competent in treating the general dental needs of medically complex patients. They will also feel comfortable navigating the hospital system and engaging with their medical colleagues.
A comprehensive educational program is an integral part of the General Practice Residency program. The residents attend lectures, conferences, rounds and journal clubs given by our dental and surgical attending staff and by attending staff from diverse departments within the medical center.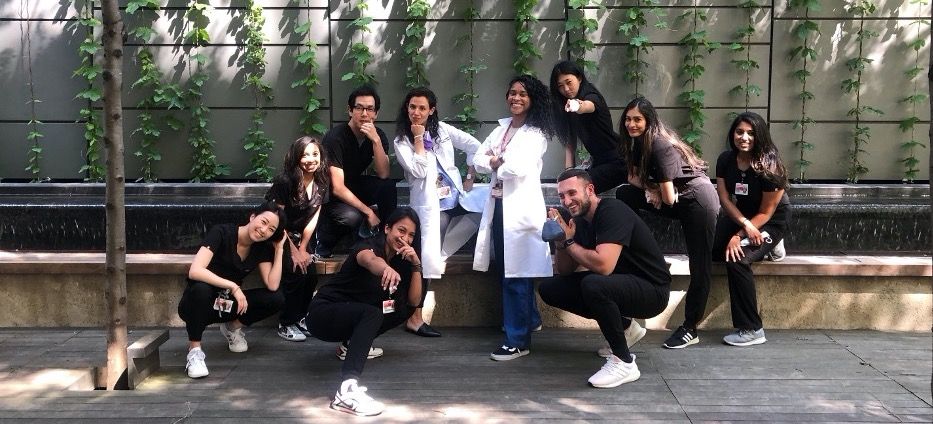 Rotations
Two-week rotations are required for each resident in the Departments of Anesthesiology and Emergency Medicine. In addition to these rotations, each resident participates in a simulation course conducted in our simulation lab that functions as a review of emergency management in the dental setting throughout the year. A medicine rotation with didactic and clinical components is completed by each resident prior to their Anesthesia and Emergency Medicine rotations.
Residents also complete rotations with our Oral and Maxillofacial Surgery service, in our Pediatric Dental Clinic and in the Dental Service at Memorial Sloan Kettering Cancer Center.
PGY2
During the second year of residency, residents deepen their understanding of dentistry and hone their practice. They develop skills that enable them to treat more complex dental cases such as all on 4 fixed hybrid prosthesis and full mouth rehabilitations. The second year residents also take on administrative duties for the dental service such as coordinating the PGY-1 schedule and planning department social events.