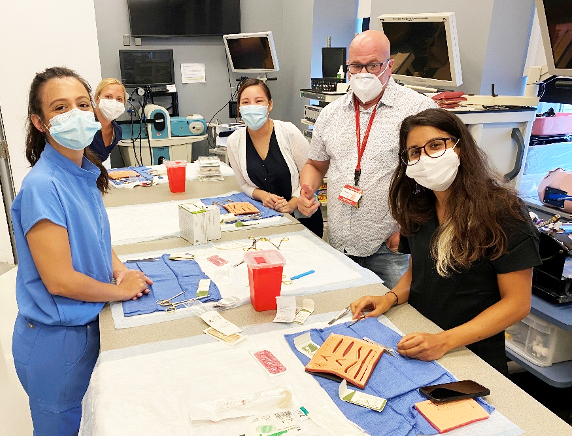 Under the direction of Dr. Gwendolyn Reeve and Dr. Claudia Kaplan, a comprehensive medical simulation program has been developed. Beginning at intern orientation, residents complete a comprehensive review of all core surgical skills including suturing, knot-ties, and procedures such as intubations and cricothyroidotomies.
These skills are taught in our state-of-the-art Skills Acquisition and Innovation Laboratory (SAIL). Each resident is trained in SAIL prior to working with patients.
The residents participate in quarterly medical simulation for emergencies that may arise under outpatient sedation using the high fidelity simulation manikins. Through a realistic simulation, residents will become more comfortable with every aspect of a surgery- from handling unexpected problems as they arise under outpatient sedation procedures to simply talking to the patient. Resuscitation skill such as ACLS is practiced and then viewed later in a debriefing room with discussion and didactic review.
The focus of the simulation curriculum is to help develop the technical and communication skills needed to develop the leaders in academic surgery and confident private practioners. SAIL is open 24 hours a day, 365 days a year for residents.